Cottage by the lake and meadow
Västerås, Strömsholm, Kvicksund, Västmanland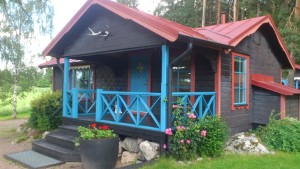 Living space: 50 m2
Number of rooms: 3
Number of beds: 4 + 2 extra beds
Description
The cottage is private with woods, fields and pastures around.
Small dock 100 meters away through the cow pasture. Small boat with motor available for rent. Suitable for fishing trips on the Lake Mälaren.
The cottage has a kitchen / dining room, living room with wood stove, TV and sofa bed, double bedroom. There are two beds in the cabin on the property.
Patio with garden furniture and barbecue.
Here is the privacy and tranquility with nature around the corner.
Rich bird life on the meadows.
Garden with roses and peonies.
Fine mushrooms in walking distance.
Proximity to Strömsholms Castle and horse riding center, Tidö Castle and numerous golf Courses.
Close
Business: 8 km
Swimming: 5 km
Bank: 12 km
Bus: 1 kilometer
Boat Rentals: boat with motor
Fishing: 100 meters
Football ground: 500 meters
Several golf courses within 20 km
Nearest neighbor: 1000 meters
Restaurant: 8 km
Lake: 100 m
Forest: outside the cottage
Hiking trails: outside the cabin in the Woods
directions
Road 56 north of Kvicksund turn towards Rytterne, Tido Slott, after 2200 meters in front of the farm.

http://www.sommarslantbruk.se/karta
Bokningar
Bokningskalender finns på http://www.stugnet.se/objekt.asp?id=7750
Kontaktinformation
Ingrid Sommar
Svånö gård Rytterne
725 92 Västerås
Mobil: +46(0)739292192